It's been a long 4 day week I'll tell ya. Never thought Friday was going to get here. Work is picking up again (at my request, I was starting to get bored) and Noey's on a 2am party kick lately. I'm thinking it's a growth spurt because all that boy does right now is eat! I've started him on more solids just because he's going to bleed us dry with the amt of formula he's throwing back! Later I'll post pics of his first tastes of squash (we've been doing rice and oatmeal here and there since the doc gave us the go ahead but he just doen't like it – would you? it tastes like cardboard!). Anywho…the real point of the post is checking in and making friends. I'm stuck at 69 followers and while that's a fun number and all, I'd like to see it grow just a little bit – we're family friendly here!
First to the shape up check in – time to buy a new scale! I stepped on this this AM and it read 138! In complete disbelief I tried again – 135…I was shrinking before my very own eyes. I tried again and again 133.5, 132. And that's where it stuck – 132…not quite believing it but I'll take it:)
Stats by the week:
Week 1 – 142lbs (7 weeks postpartum)
Week 2 – 138lbs – woohoo!
Week 4 – 140lbs – ouch…no excuses, I have a new workout regime and a new resolve for eating healthy…we should start seeing that number drop.
Week 6 – 139.5 – okay, .5 lbs! I attribute that to the fact that i'm putting on muscle and muscle weighs more than fat right??:)
Week 7 – 137.5 – woohooo! Now, we fluctuated a bit this week but as of this AM this is where I'm at!!
Week 8 – 135 – Hallelujah! Real progress now! I don't expect it will continue at this rate but we'll see.
Week 9 – 135 – With no exercise all week I'll take a steady number over what it could have been
Week 10 – 134 – 1 lb…i'll take it!
Week 11 – 133.5 which is pretty good since I only made it to the gym once this week
Week 12 – 133 – time to get back to counting calories:)
Week 13 – 134.5 – Yikes…but it's bound to happen!
Week 14 – 132 – still not believing it but until i get a new scale, we're going with it:)
The Goal this week is to continue to try for more water and to also inject some more health veggies and fruits into the diet. I know I don't get enough on a regular basis.
Okay, on to making friends! As I said above, we need to get past that 69 mark in my friend count please:) I'm trying a different bloggy hop not because they others were back but because I see the same folks over and over on there and I'd like to spread the love:)
Here's the regular Friday Follow – Ian's group!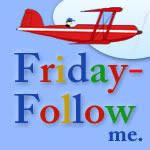 and a new one I've seen around: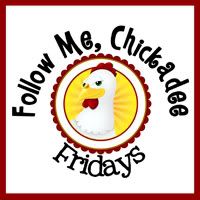 Hello to all you new folks! I hope you find something here that you'll want to come back over and over again for! This blog was started to keep the fam up to date on my first pregnancy and has continued after my little Noah was born. Topics range from smitten momma ramblings to hard hitting pieces about 529 plans and the like (haha…hard hitting..maybe not but it's fun to dream that I could actually write something that could be considered hard hitting) and has a smattering of photography (of my little man of course) thrown in for fun.
Me? I'm an almost a 30 something (gah!) working mamma who would love to ditch her mortgage in order to stay home with little man but sadly bought when the housing market was at its peak and probably couldn't even break even in the sale. Some day I dream of leaving the corporate world to do something more creative – like photography or crocheting!:) But for now amuse myself with hobby photography and blogging.
Anywho…glad to e-meet you and I hope you leave a comment to let me know you stopped by!